Generating Digital Content in 2016
Showing the list of answers for the trendiest questions within your target market, presented in well-structured way, long enough anusing a visually appealing layout are the key facts for a defeating piece of content in the 2016 SEO WARS.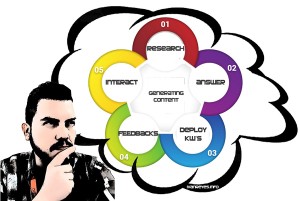 It is very important to:
Research and do an extensive critical review as a stand-alone exercise, or as part of your research and preparation for the development of your content
Create purely original information, don't duplicate anyone else's content
Develop understandable content y a simple and clear way
Bear in mind Google's semantic search techniques
Share your knowledge as much as you can
Leave your content readers formulate more questions
Provide valuable answers to those questions
Participate in topic-related communities
Use Heading Elements (H1,H2,H3,H4,H5 & H6)
Add infographics and useful charts
Place the answers into a user-friendly and responsive layout
Keep them visible at all time (side bars, menus tabs and/or footers)
Let's wrapping up!
By taking these tips into account you will affect your content's optimisation positively, even when new algorithms are meant to rolled out this year. Content will still reign in the 2016 search engine optimisation; however it has to be done with a 'mobile' mind set.